Central vacuum systems are becoming more and more popular in homes. The benefits to a central vacuum system are many, but you should keep maintenance in mind, as well.
Overall, a central vacuum system can increase the resale value of your home and provide a quieter, more convenient cleaning experience. If your home has a central vacuum, try these tips to keep your system well maintained.
What are the benefits of a central vacuum system?
Central vacuum systems have a number of benefits over traditional vacuum cleaners.
Convenience
For one, there is no need to carry a vacuum cleaner from room to room when cleaning. Instead, you just need a hose and suction set that can then be plugged into a wall outlet in each room. This already makes vacuuming your home easier and more convenient.
Quieter
A central vacuum is quieter than a traditional vacuum cleaner thanks to the fact that the motor is located in a separate area. The main motor of the unit is typically housed in a utility closet or a basement. This keeps things nice and quiet as you are cleaning rooms on the main floors of your house.
More Powerful
Central vacuums also have stronger suction power. The main motor is stronger than a traditional vacuum motor, giving you superior cleaning power.
No Discharged Air
Traditional vacuum cleaners release air through venting near the motor. This can stir up dust and allergens in your home. Since there is no discharged air that can blow dust and other debris around, the air quality in your home will be better with a central vacuum.
Low Maintenance
Perhaps one of the biggest benefits to a central vacuum system is that they are fairly low maintenance. In most cases, filter replacement is the most regular care you will need to perform. There are also zero-filtration systems available as well. Either way, upkeep is easily manageable.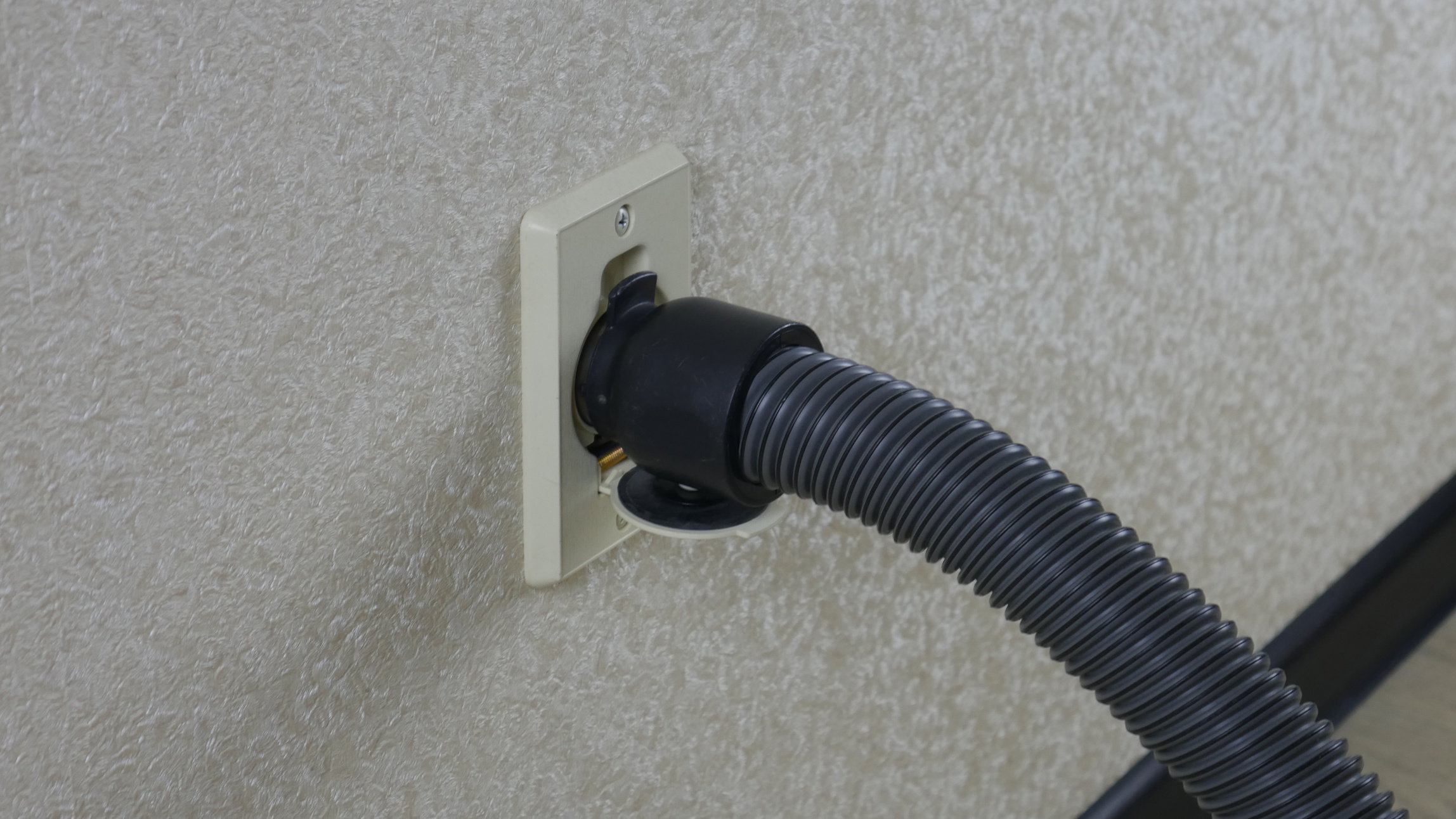 Do central vacuums need maintenance?
Yes! Although they are relatively low maintenance, central vacuums require some regular upkeep to keep running smoothly. The two main types of in-home central vacuum systems are filtered and cyclonic. They require slightly different upkeep methods.
Change the filter or empty the canister.
Cleaning methods vary slightly between filtered and non-filtered systems, but other parts of the system can be checked in the same way.
For filtered systems, clean or change the filter two to four times a year. It's best to replace filters or bags when they are three-quarters full. This will prevent clogging and damaging the motor in the event that the bag is filled.
For cyclonic systems, empty the canister when it is full. Certain systems have clear canisters, so you'll be able to see whether it's full without much effort. You may also need to empty the canister if you experience loss of suction when vacuuming.
Troubleshooting suction loss.
If you notice loss of suction, but your canister is not full, check your tubing for blockages. Certain sticky substances or hard objects can get stuck, causing damage to the filter and even the motor in some systems.
Sometimes these blockages can be removed by hand, but when they are hard to reach, a plumber's snake is the perfect tool for the job.
Check the central vacuum's motor.
Inspect the motor regularly to ensure bearings and other moving parts are well lubricated. Checking motor brushes at the same time will ensure that they are working properly.
These brushes get worn down and may need to be replaced from time to time. If there is an issue with the motor and it needs repair or replacement, call a professional.
Get it inspected by a professional.
Schedule system inspections every few years to make sure your central vacuum system is running smoothly. A professional can help you keep your system in the best working order.
With proper maintenance, a central vacuum system can last up to 20 years.
Does a home warranty cover a central vacuum system?
If you find an issue with your central vacuum system that requires repairs or replacement, a home warranty can help cover the costs. A home warranty plan can put you in touch with the right professional for repairs and replacements, saving you time and money.
Coverage through Select protects all parts and components related to central vacuum systems. This coverage does not include clogged pipes. However, this kind of cleaning can usually be done on your own with a handy plumber's snake.
Did you know? A home warranty can also cover a home's plumbing system and leaks.
Get central vacuum system home warranty coverage today!
As you can see, a central vacuum system in your home can provide many benefits. With some fairly simple routine maintenance, your system should last for decades. When problems do occur, a home warranty can protect you from paying for costly repairs and replacements out of pocket.
---
---
Not familiar with home warranties? Learn more about what a home warranty covers.